Singing with the Reading Haydn Choir is a hugely rewarding experience, both musically and socially. We work hard to get the best from each of our enthusiastic members and to convey the whole choir's passion and musicality in all that we sing.

Our range of music is broad, spanning the renaissance to the 21st century and encompassing both sacred and secular works, folksongs and choral jazz. And we like to set ourselves challenges, learning and performing works that are new to the choir, as well as performing more familiar 'old favourites' such as Handel's Messiah and Faure's Requiem. Sometimes we team up with other local choirs to perform larger works.
Our season runs from early September through to early July with holiday breaks at Christmas and Easter. During this period, we typically perform four concerts as well as singing to raise money for charities and to raise funds for the choir at events such as weddings.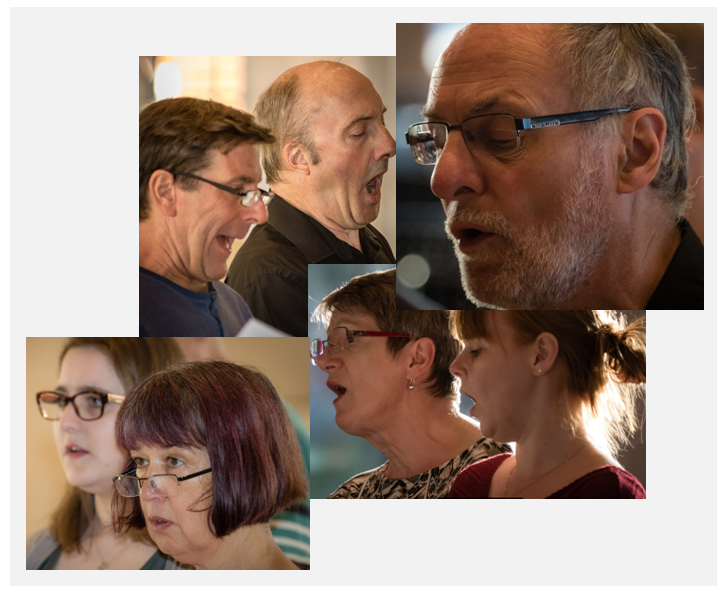 We meet on Thursday evenings throughout the season at St. Joseph's College, Upper Redlands Road, Reading RG1 5JT Map
Rehearsal begins at 7.45pm and ends at 9:45pm, although it is sometimes extended to 10:00pm, especially in the run-up to concerts.
While it's useful for us to have some sight-reading ability right from the start, we are all seeking to learn and improve. And as we are all committed to performing at our best, we expect members to do some practice at home, so allowing us to focus on the musicality of the whole choir during rehearsals.
New singers may attend for 2-3 weeks to determine if they are happy joining and if so, would need to give a brief private audition to the Musical Director prior to becoming full choir members. Auditions are not scary! They aren't there to exclude singers, but to get them on the right tracks. The musical director will invite new singers to sing from one of the pieces we've been learning. This helps to make sure they are in the right section, and gives feedback so that strengths can be built upon, and weaknesses corrected.
As we are always looking to welcome new singers in all voice parts we'd love to hear from you. At the moment, we are especially looking for tenors and basses. So, if you like singing and would like to join a friendly, enthusiastic and committed choir, please contact us by emailing our secretary at rdghaydnchoir@gmail.com